Sabîl (On the way)

In the empire of sound lies a yearning desire

The ùd player Ahmad Al Khatib and the percussionist Youssef Hbeisch invite us to follow on a Sabîl, a path leading to mysterious lands that create new impressions on the listener. They take us to places filled with the desire and nostalgia, which beat deep inside us and constantly draw us towards special worlds in search of new experiences.

Driven by Youssef Hbeisch's spellbinding and virtuoso percussion and the lyrical depth of the lutenist Ahmad Al Khatib, the duo offers us a promising vision of the future of Oriental music. Their music is poetic and soft like a breeze, and then vigorious and restless. And the album, on which the lute and the percussion seem to enter into a dialogue, captivates the listener from beginning to end.

Using a complex combinationof ùd and percussion tonalities, the duo develops a poetic concept devoted to unfulfilled aspirations. The insistent music filters into the innermost depths of the mind and rouses the listener's emotions, hopes, dreams, and nightmares.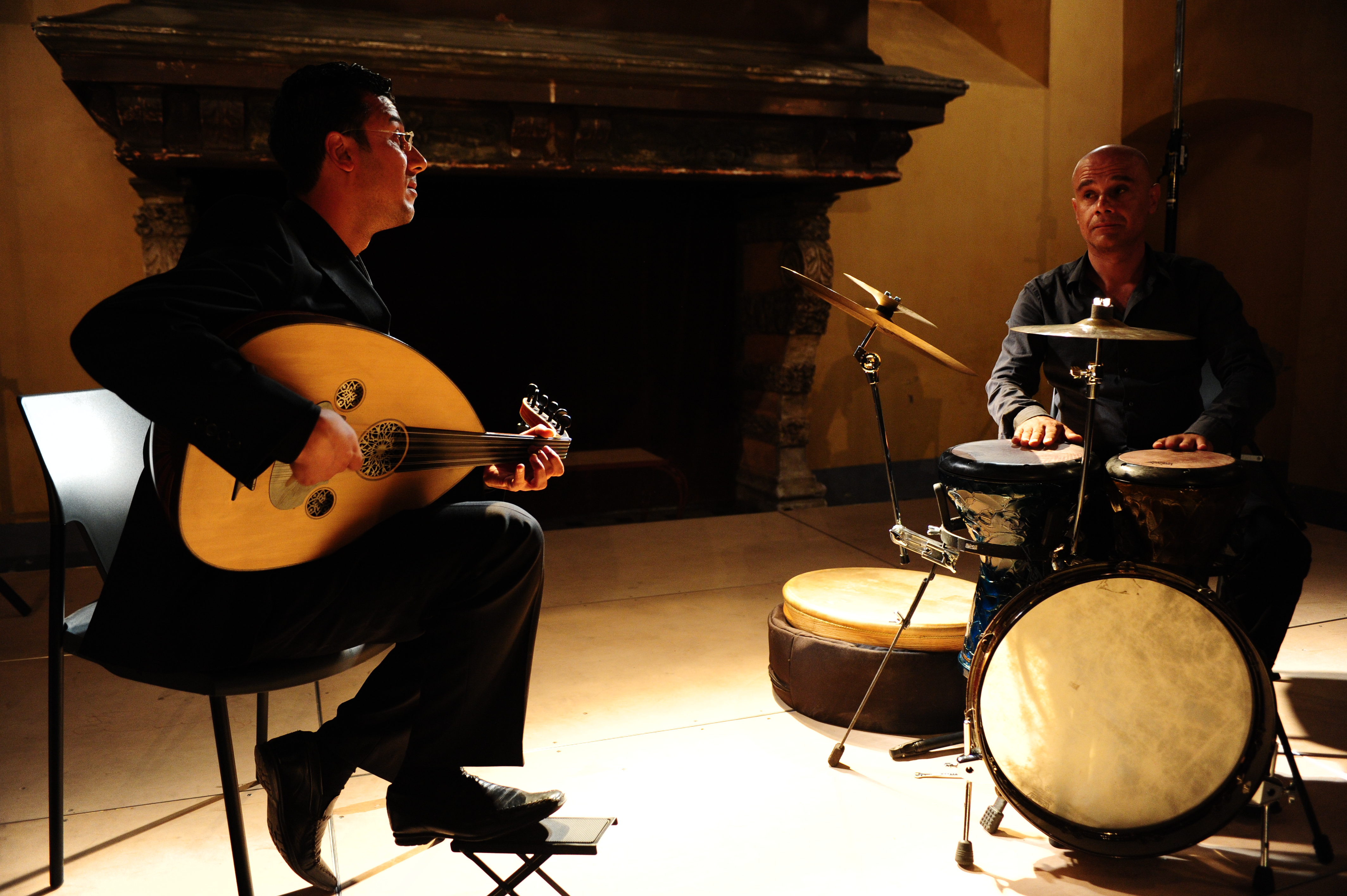 Ahmad Al Khatib and Youssef Hbeisch improvise without using any dramatic device. The joy that flows from their improvisation is always perceptible, invigorating, and stimulating for the listener. With Sabîl, the Palestinian duo combines the characteristic elements of their personal styles to produce a shared and innovative style. Hence, the barrier between the sound specific to the lute or percussion becomes less marked. It isn't easy, therefore to classify their music...

The musicencompasses a whole range of colours and different sounds. The artists have succeeded in freeing music from familiar sounds. Their compositions reflect an extensive knowledge of traditional, classical and contemporary musical forms. But their creations also bring together and contain suggestions of rhythms and melodies from different musical horizons. Tradition and modernity are give equal value: the musicians create contemporary melodies, whose soft and delicate sounds are as compelling as the rhythmical elements. The luteprovides the melody while developing its own dynamic: the lute's melancholic sound drifts in a solitary fashion and is balanced by the sound of the percussions.

The two musicians, who don't stray from their Oriental musical roots, make a point of stimultaneously exploring a range of musical influences to give their work a lasting richness. Ahmad Al Khatib's and Youssef Hbeisch's spiritual attachment  to Oriental music and their deep knowledge of its subtleties are always evident. They develop an original approch to Near Eastern Music, while drawing inspiration from traditional themes and integrating them in their work. Their music is pleasing to the ears. It is unusual and catches our attention. Its essence takes us back to our origins, our roots: it brings tranquillity and takes us away from the tensions and agitation of the modern world. Is this the essence of Oriental wisdom? It speaks to us, touch us, challenges us... and makes us respond to or question it. It tells stories and recounts tales. 

In the empire of sound there is a yearning desire. It is not an external world, which needs to be described in order to be understood, but a world in to which we penetrate as it contains lost worlds - worlds that we seek and of which we dream. Longing is hidden in these worlds that are controlled by sounds; they move us in a pleasant, almost sensual way.

The music is instantly seductive, so let's listen to it and be enchanted by its charm!
 
Text by Suleman Taufiq / Translated from german into french by Dorothée Engel / Photo © Alexandre Chevillard