Producted by Festival de Chaillol Supported by DRAC Provence-Alpes-Côte d'Azur / CD supported by Qattan foundation.
Jadayel
A moment of pleasure
On the one side Orient, neither ethereal nor nostalgic. A bristling, vivacious shore today, fed by an ancestral tradition constantly reinvented. The elegant and gifted Ahmad al Khatib, performer and composer, draws an embroidered music with ūd, punctuated by the complicity of Youssef Hbeisch's percussion - riq, bendir, darboukas… A whole subtle world, age-old and contemporary, feverish, nervous, poetic, where this obstinacy of rhythm, these ornaments, loops, and rotations would lead us into a trance... On the other side, an energetic, nonconformist string quartet, as familiar with the finest repertoire (Crumb, Ligeti, Scelsi…) as with unusual encounters beyond expected borders (Albert Marcoeur, Anne Bitran, Fantazio, Moriba Koïta…). Four musicians who question their time in its diversity and from every angle. The Festival de Chaillol builds a bridge between these two shores. The challenge: sharing timbres, practices, and searching for points of contact between both cultural areas. Or how can Arab heterophony be submitted to a western harmonic treatment? How can the classical quartet rediscover its modal memory? The etymology of Al Khatib's name touches the written and the spoken (katib 'the writer', khatib 'the preacher'). It coincides precisely with this audacious and risky wager. Because can one be sure the encounter will be fruitful? Both parties are fond of adventure(s) and used to listening to the Other. This taste, this desire, already ensure a moment of pleasure.
Catherine Peillon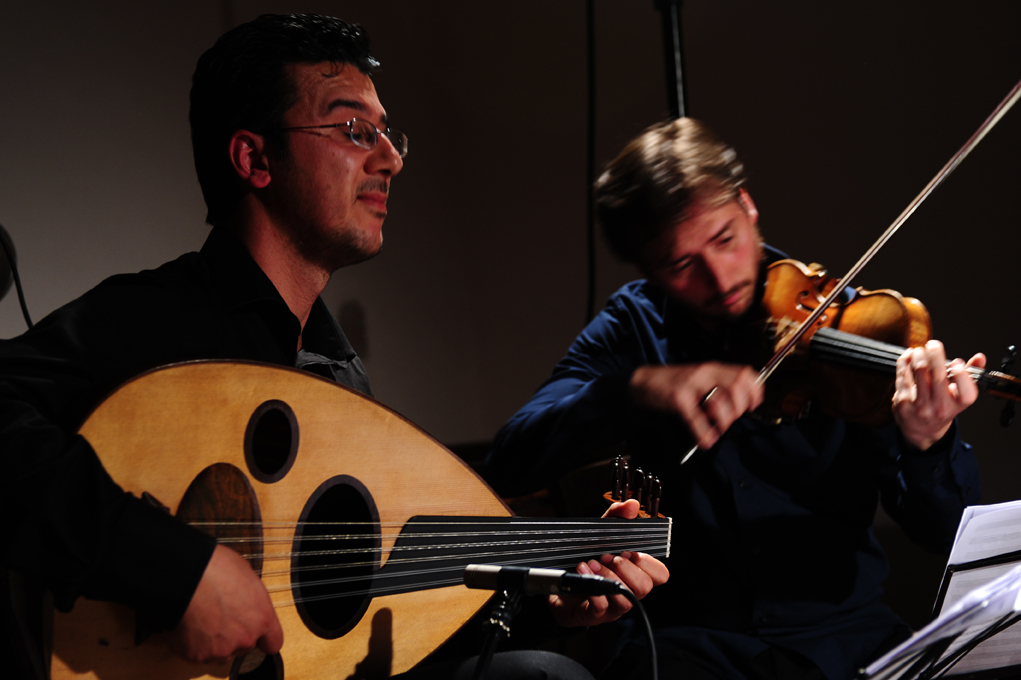 A story of birth
 
Jadayel is the fruit of an encounter between a Palestinian duo and a French Quartet. The first ones are profoundly rooted in a musical heritage which they wish to lead to new horizons. And for the young quartet, 20th century Western music already appears to be an inheritance they are willing to explore to terra incognita. Sabîl, a duo 'On the Way' In 1998, Ahmad Al Khatib, an Oud master, discovered the virtuoso and creative percussionist, Youssef Hbeisch. Several years later, they both ended up teaching at the Edward Said National Conservatory in East Jerusalem. Together, they started to work on a joint creation. The following years, each one achieved a prestigious career. At last in 2012, an album coins the duo's name "Sabîl." Nurtured by Sufi mystics, it renews Oriental music with a ardent thirst for freedom. Sabîl has already performed in Belgium, the United Kingdom (in particular with John Williams), France (at the Institute of Arab World "Oud Festival", at "Les Suds à Arles"...), and at the "Jerusalem Music Festival". Perceived with pride in the Near-East, Sabîl receives support from the Palestinian foundation Qattan, for a musical encounter with a French ensemble. The duo can then pursue a desire shared with a whole people thirsting after quality culture and connections with the world. The ensemble dialoging with Sabîl will be the String quartet Béla. Béla, heirs of the XXth century Considered one of the best European ensembles devoted to contemporary music, the Béla quartet, since 2003, consists of Frédéric Aurier and Julien Dieudegard (violin), Julian Boutin (viola) and Luc Dedreuil (cello). In addition to their repertoire (Ligeti, Bartok, Dutilleux), they stand for a panoramic vision of contemporary music. Their curiosity leads them to encounter artists of different backgrounds. With equal zeal, they can order a piece from composers of written music (P. Leroux, L. Rizo Salom), or propose an encounter to a Mandingo griot (Moriba Koïta), initiate a gathering amongst improvisors, or lead lectures for children. Convinced that the survival of living music requires a continued reaching out towards the publics, Béla Quartet performs on major stages (Cité de la Musique in Paris, Arsenal in Metz...) and also in alternative, active, and innovative venues.
Chaillol, place of creation Established seventeen years ago in the High Alps, the Festival of Chaillol directs its energy toward the field of musical creation and in the cultural development of rural mountain areas. The director, Michael Dian, well acquainted with both ensembles, senses that an encounter might be fruitful. He will be the link, willing to promote a dialogue between written music and oral traditions, improvised, or extra-European musics. "There is no opposition between these various forms of creation but rather a complementary and fertile interval between different positions in the musical world. This definition of creation, opened but requiring, is mindful of the quality of memories as well as the quality of writings. It encourages enlarged perspectives. Our programs are driven by this concern." Thanks to the enthusiasm of the whole team of the Festival de Chaillol, Ahmad Al Khatib receives a command for a work for ῡd, percussions, and string quartet. The creation will take place in the season of 2012, after a working residence in Gap.

Composing, exchanging
Ahmad then searches, explores, and allows the inspiration to emerge. He says, "I felt shy to compose for such a brilliant quartet! Soon enough I did not think in terms of 'East meets West' but of the instruments that had to dialogue. Nevertheless, modal music has an horizontal structure and uses rhythm more than Western music. And the latter, which has a vertical structure, developed towards harmony and the importance for a melody. I studied both and have tried here to use certain sounds of modal music (quarter tones, micro-tones...), by inserting them in a vertical structure, while building a rhythmical frame. It is as if I were to combine the grammar, vocabulary, and intonations of different languages. Alternatively, like a game where I would invent rules for each step and then challenge myself: is it possible to combine such mode with such melody? To use such Maqam in a harmonic perspective? To make the Saba mode less melancholic than it usually is..? Listening to Jadayel, one might hear a classical Samai and a piece of Syrian folklore, a Moroccan rhythm, an Andalusian and an Egyptian touch, elements from Turkey, the Gulf, and Iraq. There are also Western elements since I studied classical cello. Working with Swedish jazz musicians, I also discovered Scandinavian folklore. And I went back to listen to Bartok! The music which left its impression on me reappeared intertwined in Jadayel. This is the very challenge of Jadayel : to invent a 'third music', as Frédéric Aurier says, that weaves together our memories and internal grammars."Ahmad sends the first scores to the quartet's composer, Frédéric Aurier. He is well acquainted with the role of a "smuggler" who has a double culture: "Throughout the years at the music Conservatorium and thus since my adolescence years have been passionate by Oral Music. Coming from Auvergnate, I had the privilege to play with Jean-François Vrod, a master of traditional music from the center of France, who dares most audacious experiments. It was frustrating to see the world of the Academy and the world of folk music ignoring each other, while in my perspective they were complementary. Therefore, when the Béla Quartet went for a project with Jean-François, I naturally found myself as a bridge between both worlds. Because of these past experiences, when I saw Ahmad's scores, it was clear he would fulfill this role for Jadayel. This was a relief, since, in the quartet, we have been forever interested in non-European music. However, we do not want to yield to the excitement of political correctness and contribute to the existing amount of anecdotal crossovers, where all of these patchworks of pieces are superficially assembled". On the other hand, when "listening" to Ahmad's scores, "instrumental parts were really interwoven. As a result, chamber music emerged thought of for six instruments -- not for two ensembles". His inspiration stimulated, Frédéric arrives at the creation with pieces he composed for Jadayel.

Encounter
The first rehearsals are strong moments when mutual respect and getting along frame the work as precious human encounters. For the Bélas, "We discovered a
music both oriental and occidental, neither belonging to one nor to the other. It was really a third music and it was a big joy for us. We could then focus on the interpretation, on the style, the delicate balance between the six instruments. Our way of working was similar-- listening to the whole then exploring possible crossings between all instruments, holding the possibility to challenge everything at any moment... We were also touched by Ahmad's strong will to integrate the ῡd with the strings. We even had to go against his will to integrate the strings, against the delicacy of the sound of the ῡd, and push him to distinguish his instrument more. In short, Ahmad's music did exceed our expectations, but we were not passive because about each and every note, he required our agreement". For since they discovered the virtuosity and sensitivities of their new partners, Ahmad and Youssef are confident and enthusiastic about Frédéric's pieces as well. However, common work is not simple. Ahmad's music appears to be terribly demanding. The Bélas discover the maqamat Rast and Sega, as they become familiar with micro tones and the frequency of augmented seconds. Sabîl discovers a French folk dance (la Bourrée) and gets used to dissonance. They overcome challenges together, and as a result, their respect and gratefulness grow. Only then does the rhythmical frame sketched by Ahmad become developed by Youssef, who embodies here the tradition of most sophisticated oral creations. Thanks to a perfect command of tempi and registration, he contributes to organized rhythmic cycles. The Quartet is amazed by his spirit: "Youssef sees his role not as an unchanging rhythmical support, but as contrapuntal for all our parts. We saw him getting passionate about a few seconds dialogue with the viola, can you imagine?". Julian Boutin, playing viola, was delighted.

Jadayel, third music, common creation
Around the music's architecture which emanates subtle poetry, musicians bring their personalities, and timbers made possible by their sensitivities and their virtuosity. At this point, Jadayel becomes a common creation. The result is a strange musical object, including outstanding solos and finely chiselled ornaments. Turmoil alternates with delicate tones, modernity emerges from references to the tradition. And the dramatic tension gives to this masterpiece a dynamic that appears as the very dynamic of life on the way. Will they be ready for the first performance? On this 22nd of June 2012, the six musicians would have liked so much to exchange a bit longer. But the concert went without a hitch. In the end the public stood, asked for more, thanked when leaving: "You offered us a moment of beauty". Seven concerts gave rise to similar ovations. Jadayel, a child with mixed blood, was born; but he would still have a lot to say.
 
Text by Alix du Mesnil / Translation by Tal Dor / Photo © Alexandre Chevillard